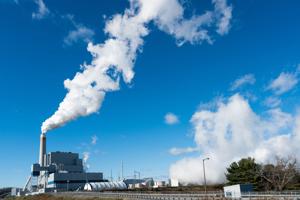 Throughout the nation, young people care about climate change and are eager to find solutions. With decades of life ahead of us, our generation recognizes that sound policy action could be the difference between a diminished future and one of continued growth and prosperity.
Proposals that seek to dismantle capitalism or advance a partisan agenda, however, can breed mistrust and hinder progress on this issue. Instead, a market-based climate strategy offers the most promising basis for a bipartisan climate breakthrough.
In this spirit, we are proud to join more than 350 student body presidents from colleges and universities across the United States in support of the market-based solution known as carbon dividends. This statement, signed by more student leaders than any prior policy statement in U.S. history, includes representation from all 50 states and young leaders across the political spectrum.
This call for action underscores how our generation's concerns about climate change transcend party lines. The data confirms this. Recent polling from the Pew Research Center found that a majority of younger Republicans, like their Democratic peers, think the government is doing too little on climate. It is no surprise that House Republican Leader Kevin McCarthy recently called for a GOP pivot on the issue, specifically citing the views of young people.
Yet any agreement on the need to tackle climate change does not automatically translate into an agreement on how to proceed. Many climate activists have proposed interweaving climate legislation with partisan policy agendas such as Medicare for All and a federal jobs guarantee. Others have called for the unraveling of capitalism in the name of environmental renewal. Regardless of intention, such approaches alienate many Americans and diminish our ability to implement solutions.
Fortunately, the market-based carbon dividends plan is an effective strategy that can appeal to both sides. In addition to bipartisan backing from student leaders across America, the carbon dividends approach was endorsed in 2019 by more than 3,500 US economists – the largest public statement in the history of the economics profession. This includes support from 15 former Chairs of the White House Council of Economic Advisers, representing every administration on both sides of the aisle in the last 50 years.
A carbon dividends plan would harness the power of the market to address the climate challenge more directly than any policy to date. By levying a fee on emissions, the proposal would remove the de facto subsidy on carbon pollution. This would level the playing field for energy competition, spur innovation, and unleash market forces to develop and deploy clean energy technologies.
Importantly, to prevent the growth of government, all revenue collected as part of this proposal would be returned to the American people as dividends. In addition, to promote economic growth, this plan would help phase out the carbon regulations that are no longer necessary in the presence of this market-based approach. Lastly, through a system of border carbon adjustments that apply a similar fee on imports into the U.S., this policy would work to protect American economic competitiveness and incentivize other countries to follow our lead.
Not only is the carbon dividends strategy capable of earning broad, bipartisan support, but it is also likely to serve its purpose. A carbon price of $0.02 per pound of CO2 – escalating at 5 percent each year – would cut U.S. emissions in half by 2035. These reductions would exceed all prior climate plans, including the goals of the Paris Commitment, demonstrating the inherent power of a market-based solution.
To anyone who doubts this approach, look to history. This same strategy of uniting the parties and leveraging the market solved America's last great environmental challenge: acid rain. In the late 1980s, as fears mounted about sulfur dioxide's contribution to acid rain, President George H.W. Bush marshaled bipartisan support for legislation to put a price on sulfur dioxide pollution. The policy, which achieved its goals under budget and ahead of schedule, is widely considered one of the most successful environmental policies in U.S. history.
The U.S. has done this before and can do it again. With the just-announced statement from student leaders, our generation is not only calling attention to the climate challenge but also rallying around a market-based strategy that both parties can support. Working together, this is a problem we can solve.
* This article was originally published here
HELP STOP THE SPREAD OF FAKE NEWS!
SHARE
our articles and like our
Facebook
page and follow us on
Twitter
!